Periodicals, journals, annual report and other series devoted to or specialising in legumes are summarised on this page. Click a link in the list below, or use the menu to the left, to move down this page to find a brief description of each resource.
Plant and Soil Special Issue July 2012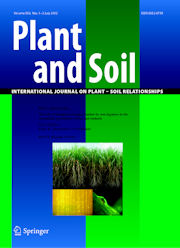 The scientific journal Plant and Soil has published a Special Issue on The role of Biological nitrogen fixation by non-legumes in the sustainable production of food and biofuels. Guest editors are EK James and J Ivo Baldani.
The 21 papers and a commentary in the Special Issue were derived from the 12th International Symposium of Biological Nitrogen Fixation with Non-legumes, held at Rio de Janeiro, Brazil, 3-8 October 2012.
For further information contact Euan James. Those with access to Springer Link can find the commentary by James and Baldani here:
https://link.springer.com/article/10.1007/s11104-012-1317-1
Bean Improvement Cooperative (BIC) Reports
A series of annual reports and review articles on Phaseolus bean, published by the Bean Improvement Cooperative at Michigan State University, USA, are available on the BIC web pages (links below). Review articles cover a range of topics including nutrition, diseases and marker assisted selection. Annual Reports for the years 2002-2010 are available to download. Information is given on how to find previous reports.
Web links: Annual Reports and Review Articles
GRAIN LEGUMES The magazine of the European Association for Grain Legume Research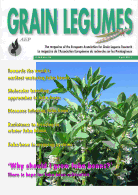 Grain Legumes is a quarterly publication 'aiming to interest and inform a worldwide multidisciplinary readership on very different aspects of legume research and use, including genetics, agronomy, animal production, human nutrition, health and economics.' Issue No. 56, April 2011 is devoted to faba bean. The editorial states ' after a year of reduced editorial activities ... we are pleased to offer this new issue to the legume community.' And here it is below in the form of a pdf file.
Grain Legumes 56 (2) pdf file, 3 Mb
Lathyrus Lathyrism Newsletter (2000-2005)
This newsletter was published between 2000 and 2005 by the Centre for Legumes in Mediterranean Agriculture, University of Western Australia. Articles, mainly but not exclusively on the grass pea Lathyrus sativus and the condition of lathyrism which it can give rise to, were drawn from a very wide range of topics and localities. Although it is no longer published, articles are still available as pdf files via the Centre's web site. Some interesting reading on the links between food, environment and the human medical condition.
Web link: Lathyrus Lathyrism Newsletter