International web resources, mainly in the topics of food safety and human health, are summarised on this page. Click a link in the list below to move down this page to find a brief description of each resource and related web links.
Codex Alimentarius Commission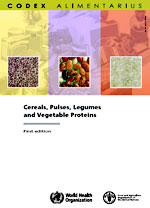 A main part of the FAO/WHO food standards programme, the Codex Alimentarius, is 'a collection of internationally adopted food standards, guidelines, codes of practice and other recommendations ...'. The publication Codex Alimentarius - cereals, pulses, legumes and vegetable proteins (First edition published 2007) is a collection of texts, that includes some species in the plant groups named, on different aspects of food safety adopted up to 2007. The report, in the form of a pdf file, can be downloaded from the FAO Corporate Document Repository through the link below.
Web site: Codex Alimentarius - cereals, pulses, legumes and vegetable proteins
European Food Safety Authority (EFSA)
EFSA was set up in January 2002 'following a series of food crises in the late 1990s, as an independent source of scientific advice and communication on risks associated with the food chain.' 'EFSA's remit covers food and feed safety, animal health and welfare, nutrition, plant protection and plant health.' 'EFSA's scientific advice underpins the European food safety system.' (The previous text in inverted commas consists of extracts from the About EFSA page.) The scientific advice is presented in opinions and reports which often contain useful background information on the plant family, genus or species in question. A search facility on the EFSA web site enables documents to be traced and downloaded. To give a flavour of the documents on legumes, some examples are given in the links below, which usually offer a pdf file for download.