Discrete research projects that concentrate on legume genetic resources are summarised on this page.
Major international databases on legume genetics and uses can be found by clicking General information on the left-hand menu and then the link to Genetic resources.
Click a link in the list below to move down the page to find a brief description of each project and web link.
GRAIN LEGUMES Integrated Project (GLIP)
Full title: New strategies to improve grain legumes for food and feed
This project - GRAIN LEGUMES - is a major collaborative research effort funded by the EU FP6 programme and involving 18 partners from European and other countries. Its broad aims are 'to make grain legumes more competitive for European agriculture, using the latest progress in genomics and ranging from plant improvement and crop management to feed processing.' The project is completed and the final report available, see links below.
Web links:
Project web site: www.eugrainlegumes.org (currently not available, 07/10/11)
The final publishable report and other material relevant to the project can be downloaded from the PCGIN web site: Grain legumes integrated project
European Commission web note: Promoting grain legumes for European livestock
PHASELIEU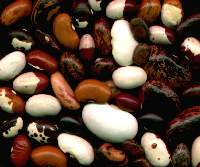 The PHASELIEU Project, primarily on Phaseolus bean genetic resources, was funded by the EC FAIR programme and ended in 2001. Since then, the members and associate groups have maintained a common interest through a web site (link below). The project was coordinated through CSIC, Pontevedra, Spain.
Web link: PHASELIEU